Services ERP
FEATURES
Our ERP provides a complete solution to manage an educational institute with web and mobile application.
Enquiry Management & Reporting Analysis
Enquiry Management for the student enquiries
Lead Management – manage your lead
Report generation
Sending Promotional SMS
Generation of SMS Reports
Student Admission
It helps you to keep track of all students' records
You can add student's data without limit.
We can convert enquiry directly into direct admission.
You can add fees details for particular students.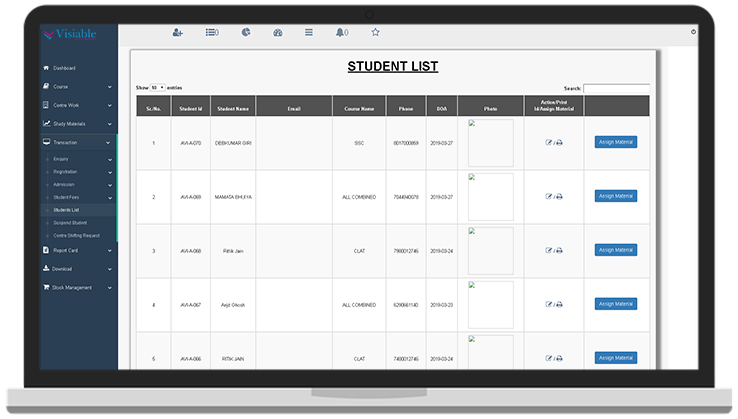 Report Card
Total Inquiry Center,Month,Session and date Wise
Total Registration Center,Month,Session and date Wise
Total Admission Center,Month,Session and date Wise
Fee Management
Manage students fees via Online fees and Offline fees collection
Update payment collection fees of students
Manage PDC cheque
Update fees installment received
View all payment history
Generate up-to-date reports on fee dues
Product Requisition
Select The Stock Type(EX.STATONERY/STUDY MATERIAL/MARKETING)
Chose The Item Whatever You Want To Order For. Rates Of The Item Will Be Shown In Tab.
Send Your Order
Inventory Management
Manage Inventory Online
Store Stock Unit Details
Transfer Inventory from one branch to another branch
Store the Inventory category wise
Multi Branch Handling
Manage all your branches in ERP software
Create daily report from all the branches
Check updates and queries from your leads
Add/Manage students data according to branch
Particular branch can be managed individually
Daily summary report of all branches is sent to Head Branch automatically